Magento Integration Services: Integrating Magento with your POS, ERP, Accounts, Warehouse and Business Systems, Amazon and eBay
Integrate your systems so that your on-line orders, in-store EPOS customers, stock, accounts, warehouse… are seamlessly shared across your business and multichannels (eg Amazon and eBay) while leveraging all the functionality and control of Magento. Let our Magento specialist developers link your Magento store with your pos and business systems.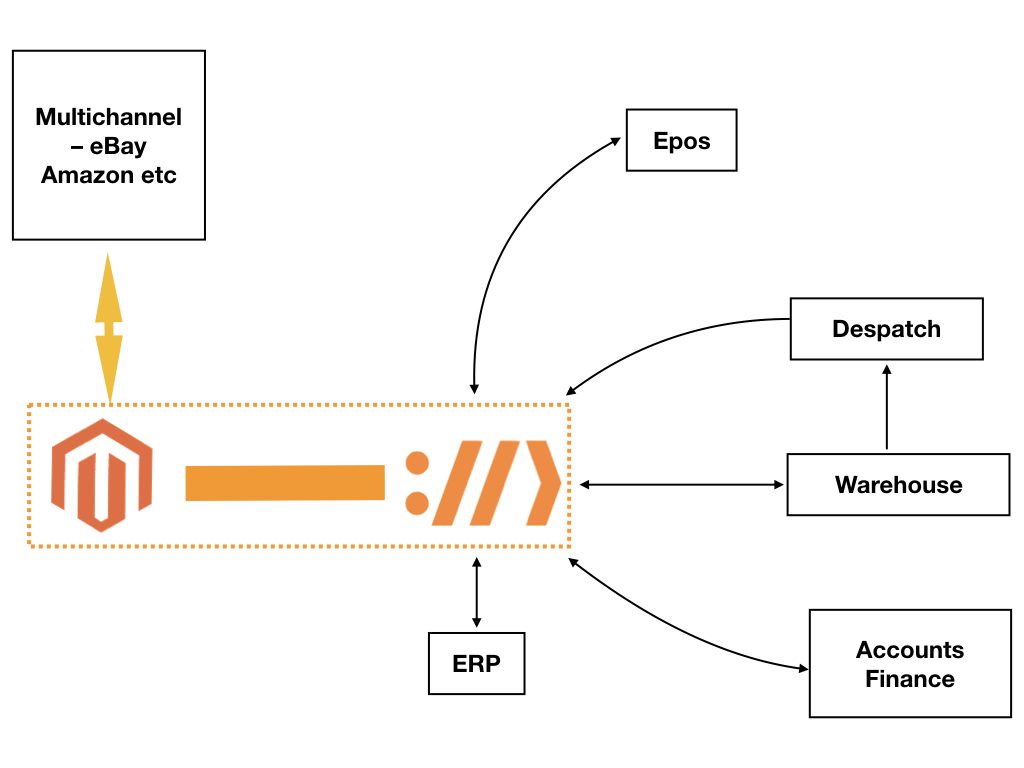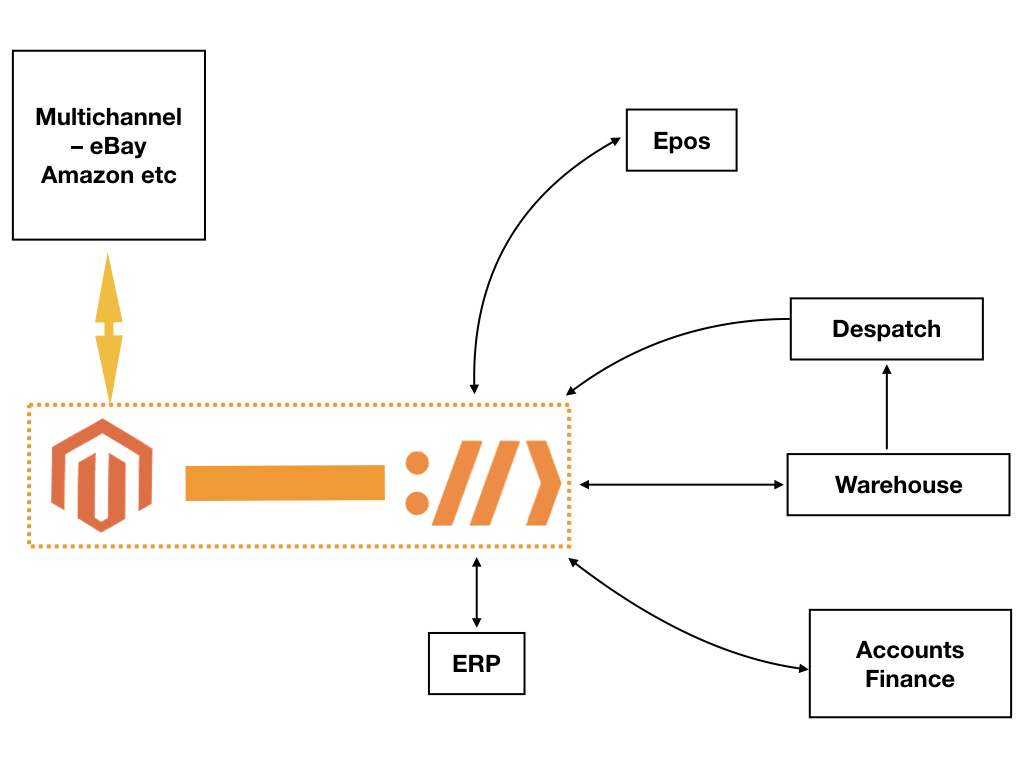 Sage Integration
Epos/EposNow/Epos Integration
Warehouse Integration
Accounts Integration
Call Handling
Amazon Integration
eBay Integration
Integration means that your products, prices, customers, orders, stocks, discounts, financial records etc etc are synchronised across your business systems. Customers will be able to buy on-line and in-store, preserving their account details across pos and Magento while stocks and financial information will automatically be updated to provide live numbers in all systems, and in your Amazon and eBay channels.
There are four basic ways of integrating Magento with your business systems and pos:
Extend Magento with custom export routines that will export/import data in appropriate format eg orders for warehouse picking and processing
Build custom Magento Extensions that will communicate directly with business systems via they system's webservice interface (eg using the system's Application Programming Interface (API) to exchange information)
Build custom Magento Extensions that will communicate with appropriate "middleware" that sits in front of the business systems and enables comminucation with it.
Install and configure existing Magento extensions.
Accentika Internet will work with your company team to establish the best approach to meet your needs.
The optimum solution depends on answers to a number of questions such as…
What is the degree of automation required?
Is data exchange required to be two-way
Is data required to be live or can it be batched?
Is an existing API available?
Is an existing Magento extensions available for the target Magento version (M1 or M2)?
Is secure access possible to the target system?
Custom Integration Examples from recent Accentika projects
Custom Exports and Imports
Orders exported as formatted files and auto-transferred to warehouse for processing.
Warehouse barcode data back-imported into Magento to update order records and confirm warehouse status
Customer discount prices batch imported daily to update customer buying price
Middleware and Direct API
Order financial information communicating with middleware (Intellisell) for integration with Sage accounts
Integrating Magento on-line sales with in-store EposNow
Integrating Magento on-line sales with custom store EPOS
Integrating orders and customer with Khaos ERP
Next Step
Call us now on 03458 699965. Contact us today to discuss integration of ecommerce data across your business, or to arrange a meeting.
Email us on

[email protected]

.
Chat with us for instant feedback. We are online most of the time during office hours, or leave a message.
Magento Integration
Let Accentika developers integrate your retail and stock systems with your Magento site