About us
Magento Developers with the Personal Touch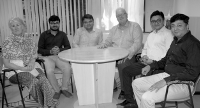 Need an e-commerce platform that's flexible, customisable, and provides a solid base to integrate with other enterprise business systems? Look no further than Magento. Our team of experienced Magento developers and integrators can help you get the most out of this powerful platform, whether you're looking to automate your processes, streamline your inventory management, or create a unique, customised e-commerce solution.
One of the key advantages of Magento is its modular design, which makes it easy to customise and extend. Our team of expert Magento developers can help you create custom themes, templates, and extensions that will take your e-commerce store to the next level. We can also help you integrate Magento with other business systems, such as accounting software, ERP systems, and CRM platforms, thanks to Magento's robust API.
At Accentika, we understand that every business has unique needs and requirements. That's why we work closely with our clients to create custom e-commerce solutions that meet their specific needs. Whether you're looking to streamline your processes, increase your efficiency, or simply create a better customer experience, our team of Magento experts can help.
So if you're looking for a powerful, flexible, and customisable e-commerce platform that can integrate seamlessly with other business systems, choose Magento and Accentika. Contact us today to learn more about our Magento development, integration, and process automation services.
NEWS: LONDON OFFICE OPENING SOON. SPEAK DIRECT TO OUR DEVELOPMENT TEAM ON 020 362 77890
To discuss your project, call us on 03458 699965. Or Contact Us.
Our services

Omnichannel Sales
and Multistores
Bring together your Web sales, eBay and Amazon channels with your bricks and mortar stores – with Magento at the heart

Magento
Security
Server and Magento Security Enhancements and Site Rescue

Mobile/Tablet
Storefront
Managing Responsive Interfaces and customising for Mobile Sales
Creative work
Current Magento projects with customised functionality and services